The PowerTrack® management center is based on a LAN computer network, consisting of communication and database servers, telecommunication equipment, printers, and UPS equipment.
The software is MS Windows application. It consists three basic functionally:
Automatic data collection:
Reading the meter's data which is stored on the concentrators (optionally in the meters too)
Remote programming application:
Setup and control of the meters and concentrators (i.e.: setting date and time, entering tariff structure, setting maximum demand, etc.)
Administration of server's database:
MS SQL 7 database is used for system validation, reporting, control and archiving.
Special application is prepared for creating all requested types of reports.
Clients have access through the internet to obtain the data.
The software is built out of two modules:
Networking - responsible on meter reading, data transmission and manual commands to the infrastructure
Management - responsible on evaluation reports, graphics, messages and commands, and archiving.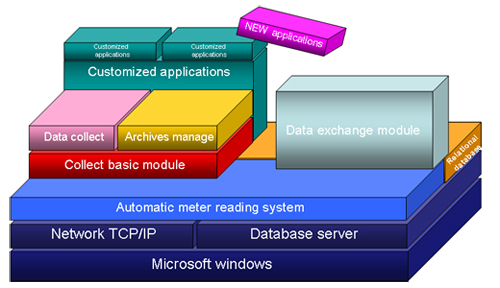 PowerTrack management center controls all data from meters and concentrators. The central system is designed with full authorization control of functions objects and users. The central system handles scheduled collection. Reports and values may be exported in many formats.
Report is a third part of the PowerTrack software package that is able to access, process and display different data from the software system in numeric and graphic form. Its essential task is to combine measurement results in such a way that they provide the documentation for billing calculations, prognoses, energy consumption management and control. The database includes data on measurement places, substations, tariff definitions, customers and measurement places results.
The report module enables implementation of various reports required by the utility.
It enables aggregation of individual meter measurements, virtual meters reports display, export of this data in different file types for analyzing.